Made by Loula in Gr
solo exhibition catalogue, 2016 , Art gellery Ekfrasi, Athens, Greece
curated by Maria Marangou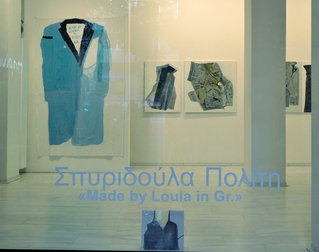 A few words about Loula

The girl next door is a hipster; hysterically so. She would always identify with an era and exhaust it, in a kind of dressing up accompanied by rituals which she recorded on film or photos.
On her own or with a group, dressing this or that way; a pose, a situation so that they can have a chat between them — she with herself, that is. The associations with other heroines of painting create their own new landscapes, at times subverting the succession of past and present.
The years went by, the crisis came and wrecked everything, her concerns found some answers or went into deeper waters; and here she is, Loula, a petite-bourgeois, middle-class, formerly upper class person, contemplative, rock, looking into the wardrobe and bringing out her everyday clothes. It is these that she wishes to stage.
Of course it is the image of the body she is dealing with again. It is the body itself that will be exhausted, negated, used; that will change form, be converted. You see, the present's umbilical cord is always in the past, especially for artists.
A garment represents its wearer. It is a detail that makes the difference in a world that's homogeneous and always on the move, by plane or on the web, drinking coffee, putting things or the vacuum in order or in disorder, twisting or distorting the everyday reality to make it more bearable, suffering from depression and insomnia. A Loula we know, our own Loula, under pressure, terrified by the sight of bills and by the burden of an art with which something must be done, since it won't be made to disappear.
Every garment conjures up its own story. A good meeting, a conversation, those nice apples at the open market, the Brad Pitt film, the reading of the life of Epicure, the encounter with the work of El Anatsui, the great existential crisis before the Greek crisis, why others can have an international career and Loula can't. Amidst all this there is that old shirt that surfaces, linked to the question of the viewers' role, their participation and the limits of their power over the course of the artist's work.
When the clothes are not enough, Loula paints those huge forms that oppress her, although she exorcises them with slogans and titles. How nice. Ink is the fastest and most transparent material before painting on the computer.
In terms of the art scene, these shenanigans belong in a contemporary neo-pop setting with a good dose of surrealism, just like our bizarre Greek situation.
Spyridoula Politi is a serious person in terms of her relation with art. The visual essays on her persona of Loula suffocate, entertain and nurture us.




Art means to dream

_solo exhibition catalogue, 2015, Palais Hirsch, Schwetzingen, Deutschland,
Deutsch.Griechisch Akademikergesellschaft,
curated by Panos Kabolis


... Der Titel "Kunst bedeutet Träumen" ist zentral für das Werk von Politi. Nicht nur die Thematik sondern auch die Darstellung und die Handhabung der Materie verweisen auf Traumsituationen die sich realisieren können (oder auch nicht), auf Erlebnisse, die wieder in Erinnerung gerufen werden können.
... Die Künstlerin selbst hat oft das Thema der Wiederholung in ihrem Werk angesprochen. Laut ihr habe die Wiederholung eines Musters für den Künstler eine entspannende Wirkung, fast therapeutisch. Die Wiederholung verweist natürlich auf griechische volkstümliche Verzierungselemente. Dazu noch kann man in ihr eine tiefere philosophische Dimension erkennen: sie hat mit dem Einklang mit dem sich wiederholenden Rhythmus der Natur und des Lebens zu tun.
Back to the matrix
solo exhibition catalogue, 2014, Municipal Art Center – Parko Eleftherias, Athens,
curated by Regina Argiraki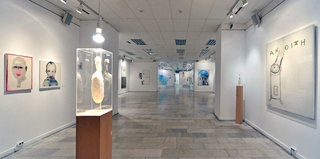 The whole of Spyridoula Politi's opus presents a consistency in a pretense of lightheartedness – regardless of size – and in a swift commentary either with words, or with obvious references. Νevertheless behind this first impression the artist persistently proposes and deals with some of late Modernism's principal objectives. Specifically she deals with: a. The problem of depth without calling forth Renaissance's Euclidean solutions. b. Deformation not as a thematic comment, but as a key visual information. c. The insertion of words or sentences not as exclusively conceptual datum, but as lettrism with a substantial structural position in synthesis.
The creator's solutions are bold, deprived of plain bedazzlements, ingeniously conversing with the methodological tools of her artistic ancestors. Politi abolishes depth altogether refraining from Rembrandt's faint out or Theotokopoulos's superimposing chromatic regions. Design is the strong element that defines solid surfaces in the context of an almost disappeared container, usually white or void. A clear design, bereft of shadows, short penmanships or chiaroscuro, with exactly measured distances between lines of specific thickness, so that they define bodies, buildings, animals or motifs. It is the way that Picasso reduces design in autonomous painting in his Erotics, Minotaurs or Night Fishing.
Each and every time that Politi deforms, in reality she negates a part of design's expected continuity replacing it with color in a way, that the narration culminates in a tonal surprise and painterly casually but crucially, reverses the linear. The extremely studied choice of color gains direct and powerful reference to the comment, just as in the case of Hymn to Botticelli. In this case actually the power of reference also transcends the fact of the abolition of most basic Renaissance's conventions.
Finally her lettrisms constitute on the one hand a peripheral comment, yet their position, shape, percentage, brushstrokes and color elevates them to a conditio sine qua non structural element, that results even for a perceiver unaware to the language, to be able to get the visual issue posed in her works, without losses.
However, what is worth observing in Politi's works is her obsession in the role of the container, whether it is comprised of a huge sheet, or of a laboriously stuccoed frame. This carefully selected surface functions as a matrix for producing images that lay on it undisturbed from our real three-dimensional world, and also free of the obligation of the trompe l' oeil that the expected easel painting evangelizes. The result is an underlying yet persistent question that hooks the spectator. Not the "how do I see?" with which Modernism aims to active vision, but the "how do I form thoughts?" with which creators like Politi, inevitably connect perceptual inputs with conceptual outputs as causa ponens and donate a new dimension in the cognitive field of Neuroaesthetics. This alone is enough to classify Spyridoula Politi amongst the most important representatives of her generation.
The National Garden
Installation of the group Indoors Plus, 2013,

EMST

, National Museum of Contemporary Art, Athens,
sound:  Stefanos Barbalias, curated by Stamatis Schizakis





_The National Garden
by Indoors plus,

The garden as a concept resulted from the meeting of our group Indoors (Marigo Kassi, Vally Nomidou, Spiridoula Politi, Mary Christea) during the spring of 2010 with three more individuals that also felt our need for expansion, collaboration and communication: the visual artists Antigoni Kavvatha and Kostantinos Stamatiou, as well as the physicist Dr Ernestos Argyres. This new schema was called Indoors Plus.

Aim of our meetings became the production of a new work through the creation of a space-place where our different voices would meet to deal with subjects of identity and ways of relating in an attempt to mitigate any differences originating from our different individualities.

…For us, the garden is a miniature version of society, with respect to co-existence, individuality, difference, self-management, ethics, autonomy, meaningful communication.
…The difficulties our team faced, in regard to collaboration, reflect various grave problems characterizing our society. However, an artistic group activity of this kind, hopefully affects the social whole in a positive way, by creating a core with common responsibilities and common vision.
…Our decision to create the work as an oversized maquette places the viewer between the real and the virtual. The space is real and allegorical at the same time. The white colour dominates and creates a cold feeling referring to a cold, paradoxical lifeless space.

Together with the experience of this paradoxical, cold landscape, and following a path inside the garden, the viewer becomes part of the work, activating with his passing a hollow sound, that uncannily enlivens the space.

In our work, the National Garden becomes a polar landscape, violently fragmented, agitated, succumbing to the global tendency of degradation and degeneration. It is finally becoming a symbol of the urgent need of a creative reconstruction.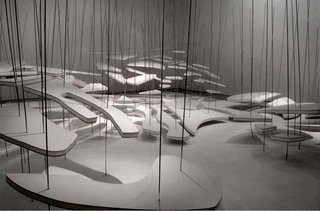 _The National Garden
by Stamatis Schizakis,

Τhe example of the garden is used in mythology, religious texts and even contemporary philosophy to express a multitude of idealized situations. In Amaurot, the capital of the fantastic Utopia of Thomas More, although houses and gardens are common, the residents compete with each other on the cultivation and caring of the gardens so that there is "nothing belonging to the whole town that is both more useful and more pleasant". Even the etymology of the word "paradise" can be traced back to the Avestan (East Iranian language dated ca 10th century B.C.)word for garden. The garden in the Persian tradition is the earthly version of paradise and gardening develops a detailed typology of public and private enclosed outdoor spaces aiming at a symbolic or descriptive representation of the world. Michel Foucault uses the paradigm of the Persian garden as an example of "heterotopia", the reflection of a utopia in the real world, and suggests that "the garden is a rug onto which the whole world comes to enact its symbolic perfection" and that "The garden is the smallest parcel of the world and then it is the totality of the world."

…The group Indoors Plus remodels the ground plan of the garden in the process of creating a large scale model which the viewer can peruse. The lack of colour transforms the dispersed in every level installation into a polar landscape. Entering the space of the installation causes vibrations in the forms balanced on thin metal rods. Electronic sensors perceive the viewer's motion which causes the addition new sound layers the soundscape composed of natural and electronic sounds.

Starting with the intention of creating a common work through a collective process were every member of the team maintains its individuality, Indoors Plus settle upon the theme of the garden and present an installation based on the feelings of instability, dominant in the last few years, while, at the same time, giving a sample of the creativity of group collaboration.




Dowry


solo exhibition catalogue, 2011, Fizz Gallery, Athens_
by Haris Savvopoulos,

..."Through dreams and fairytales I envision a world…," writes Spiridoula Politi, also a child from the lost generation of the post-dictatorship age. I do not know whether she would say the same words around the early 1980s—obviously not, but even she did think like that the dreams and the fairytales would have been different; dragons would be dragons, and heroes would be heroes. One only has to go back to her work from around the late '80s and early '90s (painting was preceded by music studies) to see that the cornerstone in her artistic quests is a mixture of sensibility and vision realised through images and visions which are naturally oriented towards the language that records and narrates.
The unshaped sensitivity and the vagueness of the dream (clear dreams scare us!!) are good pointers in Politi's case, because they lead her to transcend the sense of measure. This is a strong blow against her ties with the past; besides, you cannot really leave something behind unless it is fully yours. Once liberated from all conventions, which are essentially the products of the presence of measure (a sense of space and time), she opts for a decisive gesture on the painted surface which marks also the crossing of her own Rubicon. In large areas of her images, Spiridoula Politi decides to replace colour with tangible objects—dolls, in this case—which serve as identity objects, as fingerprints of gender and of the social conventions of our training.
Their material also comes from the old days: bed sheets from her dowry (!), an old T-shirt, needles and threads.
Spiridoula Politi, by contrast, makes effigies/dolls which she sews with 'traumatic', i.e. red, rough and harsh stitches, and then places them on the surface of the painting as objects. It is almost like a folk fair, a wedding feast, with painful stitches that penetrate like a troupe of itinerant actors into a surface with a paroxysm of lines—angry, nostalgic, narrative lines, aesthetically far removed from her previous palette of colours. It is also far from any literal, explicit views on women's art or aesthetic. She just listens to her identity and allows it to function in a sensory, aesthetic and artistic way. This is probably the main visual-artistic issue she puts forward.
Her morphological treatment of the subject sets the conditions for a direct reading of the work. The colours are light and well executed. We know the difficulty with watercolours; they require sure-handed, quick motions/decisions. It is simpler when you are painting a landscape, and incredibly hard when you need to depict the demons that rise from within yourself, to tame and organise them into a structured image. The same is true of her drawing: it is images written in space (on white), often accompanied by verbal improvisations—cries, statements and references. The human body is ethereal, almost translucent, identified with space. In an age when the human body competes with space, the artist opts for the simultaneous, almost dialectic existence of both.
The motifs of women's handiwork in her recent series of works are painted, and thus take her visual idiom into a higher state of maturity. The sewing or the embroidery is visible without being there; she renders them through painting. The rendering of those Botticelli motifs, for instance, is more of a drawing/embroidery than a narration of visual phrases as they emerge from the memory of Primavera and the Birth of Venus. Painting turns into a simulation of embroidery to frame the theme of man and woman, the theme of the couple. Man and woman, Adam and Eve in Art History, the male and the female at the dawn of the third millennium are interesting subjects for every artist.
How female can this be? Of course it is not. It is not so much the simulation (women often did not embroidered motifs, they imprinted them using decoupage) but the subjects and their morphological processing which point to a woman's personal identity. The figures of Spiridoula Politi may appear to the viewer to be like instinctive, direct and highly emotive renderings. Yet the positioning of the female figures in relation to the male ones and their slanted gazes towards them (the figures seem to be repeated), point not so much to instinct but to intuition; female intuition.
The artist herself describes this in another way in the Ta Nea tis Technis newspaper, where she says: "...my work is a product of expression and has a raison d'être. It is has feeling rather than a critical attitude".
Indeed, these are images/statements, images that emerge from within and do not emphasise conflicts or differences. They rise to the surface as prismatic identities of Spiridoula Politi. And, of course, as prismatic identities they aspire neither to deconstruct the woman artist nor to point to emblematic behaviours. They are simply proposed as attempts at defining the woman artist.
Indoors Art Action
of the group Indoors, 2008
members, artists: Mary Christea, Marigo Kassi, Vally Nomidou, Spyridoula Politi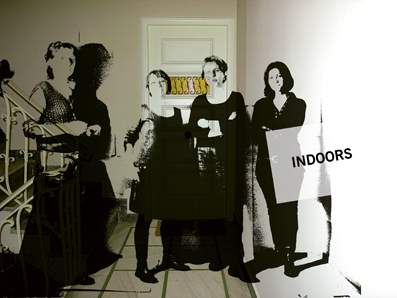 Indoors as a happening elevated the operational home into an artistic event in interaction with the works which were specifically created and integrated into each room.
Our aim was to reveal what goes on in a house beyond the things that are 'visible', without compromising the vitality of a fully functional home. After one year of regular meetings which were recorded, we arrived at the form of the visual interventions/artworks. The works were about issues of identity and identity crisis with regard to the roles of mother, daughter, wife and artist, and also about disclosures, revelations and traumatic experiences.

The labyrinthine course of the visit to the flat (home to one of the four women) and our deliberate decision that we would function as hostesses during the exhibition shaped the event's live form as an indoor happening and showcased our own live attitude towards our multiple identity as women, artists and hostesses. The hospitable role of the hostess permeated all the artistic forms on show and turned the private home into an exhibition and a public social event.
Dowry I
solo exhibition catologue, 2006, TinT Gallery, Thessaloniki
by Lenio Papantonopoulou,

Spyridoula Politi with this new unit of works literally dives with her tools-her threads, her needles, her brushes – into her past- she embroiders, she photographs and paints, she unfolds her personal diary.
She notes:
By unfolding a sheet in my workshop, I felt that a whole story, a fairytale got unwrapped in front of me. This sheet and some of my old jumpers seemed to be carrying a story and they seemed to be my only connection to my past. The spring of this idea is most probably my moving out. I suddenly found myself in a completely new space, in an environment filled with brand new objects. These sheets were part of my old belongings that were transferred in my workshop. I started embroidering them, painting them. I started manufacturing and then photographing a dreamy world, a setting full of dolls, of princes and princesses, of knights.
In this captivating atmosphere directed by Politi, the reality of the viewer's experience is enriched by a fairytale quality. She sews and paints her own sentimental geography and transforms the surfaces into mirrors of memory, into sensory projections stemming from vision, dream and fantasy. Just like treasured images, her dolls emerge and appear static and silent, fugitives escaping from time's wear, parts of a narrative sequence.
Politi makes her viewer face a personal reserve of icons that are implicit, without any lucid allusions. The environments that she creates and photographs, encircle her power, echo with her pursuit of identity. For Politi, the feminine identity is so fragile that seems to be hanging from a thread. Thread, threads are her tools, but in reality her works are made of memories and recollections, of cohesions and correlations. Mentions, repressed impulses and prospects, they all compose this rather persevering, although silent presentation that surmounts the visual formulation of inclinations and emotions.
In substance, her works are a struggle to trap time into the present, time that through Politi's work becomes subjective and its separate levels get transparent, blanketed and embraced by the power of feminine magic.
Art means…, 2002-2011
by Spiridoula Politi
To do somersaults, to cut an orange
To write a letter to grandma, to look at myself in the mirror
To travel across the history of art, to meditate, to let myself go
To take a bath, to be able to take icy water on my body
Art means to be able to be myself
To walk in nature and feel its glory, to accept my tiny status in it,
To attune myself to it, to sing its praises
To listen to music, to paint
To be able to become the colour that spreads itself on matter,
as the deeper desires in my soul demand
To be able to feel every moment I experience
Art means a way of life, to penetrate, to immerse myself
To be able to change my viewpoint of things
To fall in love, to reveal myself, to exceed myself
To take risks, to run marathons,
To accept things, to give my food away, to generate ideas
To be able to destroy something beautiful in my quest for the ideal, the superior
To be able to turn everyday reality into creation
To adapt my inspiration to my finances
To accept futility
To accept the boredom of doing the same things over and over again
To get stoned
To be able to see Yannoulis Halepas as one of the greatest in art history
To endure misogynism and male chauvinism
To get naked, to touch and be touched
To seek the truth, to dream
To have friends that I can sleep with
To buy white sports shoes at Easter
To juxtapose death with the lightness of being
To be able to talk rubbish
Art means to do somersaults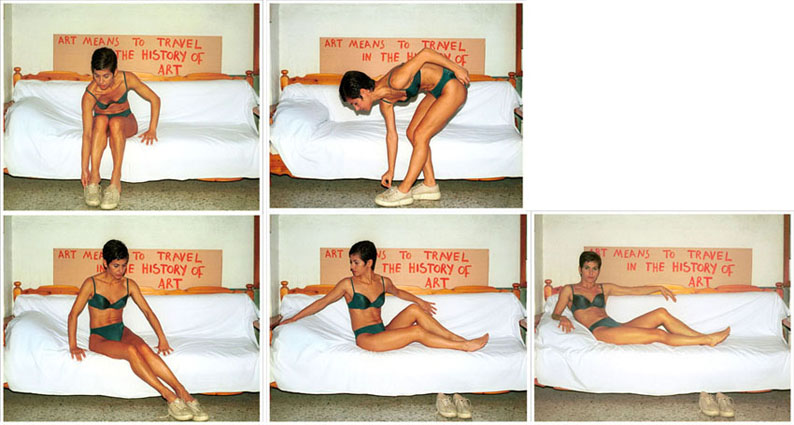 by Maria Maragou, 2002, March 11, newspaper Eleftherotypia,
Spiridoula Politi takes a further step forward. From beautiful fatale Olympia, lying on Manet's sofa Politi borrows whatever the image can mean, not the painting, and reproduces the present day with her own picture on a couch. Nevertheless the picture is not static. Every snapshot is a different pose, like the constantly moving history of art, through which the artist can travel.

The tumbling is a video (look it up under the Video tab in the main menu) presented at the Biennale 2 of Thessaloniki 2009, in the context of the Indoors is moving out group (curator Syrago Tsiaras).
Blood-Soaked Candy
solo exhibition catalogue, 2004, Gallery 7, Athens
by Thanassis Moutsopoulos

_The multiple facets in the paintings of Spyridoula Politi

_A flower left out.
My bones hold a stillness, the far
Fields melt my heart.
Sylvia Plath,
Sheep in Fog.
It is said that the calmer, the sweeter things are looking the greater the imminent danger is. To paraphrase a phrase of Robert Lowell's, in the art of Spyridoula Politi the character we come across is womanly rather than female, although almost everything we usually regard as womanly is volatile. Her style is sometimes coldly sarcastic and witty, sometimes petulant, girlish, charming and elsewhere it goes into a sinister viciousness — a Dido, a Medea or a Phaedra that cannot be clearly defined.

There are many kinds of works in the oeuvre of Spyridoula Politi, quite different between one another yet held together by an indefinable similarity and affinity. There are the 'architectural' subjects or, to be precise, the renderings of cities. Here Politi goes with ease from the images of a mythical city, full of memories from the Byzantine past and at a fairy-tale distance from reality, to views of the contemporary, superficially unattractive Athens. The painter abolishes perspective and highlights the outlines of the buildings as linear zones with black brush strokes. Other works are dominated by weird hybrid animal figures, usually goats, on wheels, which seem to have come out of childhood fantasies from another time.
Then there are the fairytale works, where the dominant themes are princes and princesses, flowers and pink tones, dolls, threads, sewing, stitches, tenderness and escape…
Finally, there the works with the severed heads that hover in space dripping red hues, perhaps alluding to John the Baptist or Holofernes, although neither Judith nor Salome make an appearance. Being a woman, the painter seems ready to take their place. And this Freudian climax may be a thematic sequel to the works in which Spyridoula Politi dissects in a dramatic way the much-suffering relations between the genders. In these works the anticipation (of the woman) alternates with the (common) alienation, the trauma, the loneliness… They are heart-rending, but often cold and detached.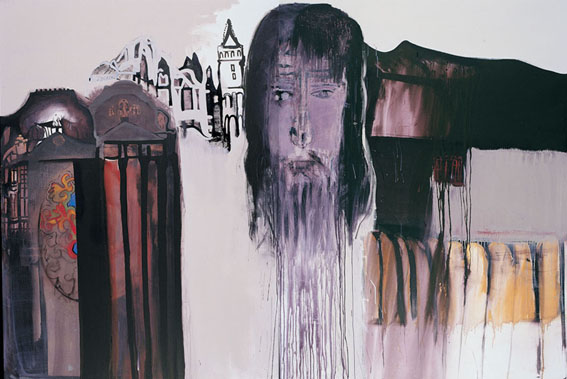 The cliché about the "female visual style" acquires its true meaning in the work of Spyridoula Politi. Comments/notes about the most mundane yet highly personal thoughts invade among the brush strokes in the form of words — especially when she 'embroiders' the margins of her works with such phrases as "and suddenly everything was pink" or the heartbreakingly simple, "I am very sad today. Perhaps I should go for a walk on the Acropolis." She is right — what else can you do on such days?
The materiality of non-real
solo exhibition catalogue, 2002 Gallery 7, Athens
by Katerina Koskina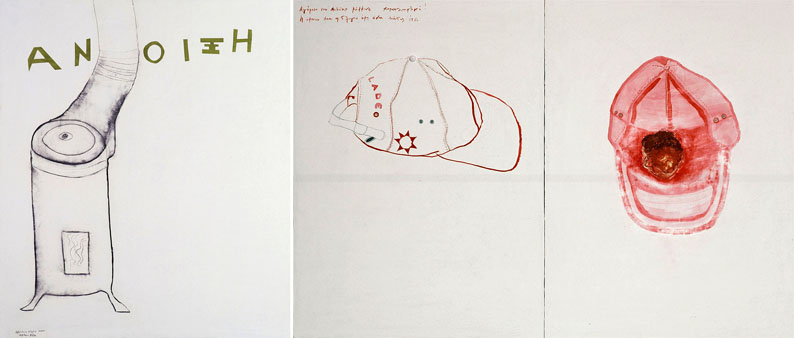 Spiridoula Politi has developed a very special relationship with the material of her works. Having rejected the temptation of an imitative reproduction of images from the outset, she was led to a clearly 'sculptural' approach of the painted surface.

Painstakingly processed with a slow and complicated technique, her painted surfaces provide an insight to her inner world. Thus self-analysed through 'handicraft', she participates in the creation of the painting with her body (the repetitive motion necessary to apply the layers of paint and plaster) as well as her subconscious. Besides, Spiridoula Politi sees everything she considers to be a work of art as having to do with the very process of art, from the conception and the images recorded in memory to the final visual product.

Thus her works may be the result of her personal projection, her various "I have" and "I want", but they also materialise her movements during a creative process which, as we said, is deeply associated with the process of introspection. As she moulds her material and transforms it into a conveyor of messages and fragmentary images of special significance, she reveals the needs and articulates the questions of her life. Which life, though? The life she wanted a live and never did -the live of the past, of dreams, of imagination, of the non-real. Thus she is free to stop following the rules of logic, to create paradoxical images such as that of a stove in warm weather or the one where she turns the simple action of peeling an orange into a work of art.

Spiridoula Politi leans on her experiences to talk with sincerity about her art, and uses elliptical, fragmentary images of broader, more complex events to make up a chronicle of her own life, a life which, once realised into art, can only be real. Modifying her experiences according to her wishes and she manages to balance between reality and imagination. In this attempt she enlists the aid of photography, which promotes the feeling of veracity and permanence, and written phrases whose content, instead of clarifying things, serves to perpetuate a paradoxical game.



Visual Testimonies

_group exhibition catalogue, 1999, House of Cyprus, Athens
curated by Costas Stavropoulos






The latest work of Spiridoula Politi is closer to the mark and needs a ligh dose of dependence on her timelees sense of lyrical visual poetics in order to come across in terms of emotion, aesthetics, expression and communication. The poetic visual expression of her forms appears – at this moment – to be involved in a relationship of erotic chemistry with the lyrical verses of Archilochos of Naxos and with the dramatic esoteric verses of Eutipides. These two important elements describe and set the course for the idiom of the painter who sometimes wears ballet shoes and sensitive, dreamlike clothes and sometimes changes into the bloodstained clothes of the embittered refugee from Asia Minor, well staged into her bitter compositions – Ionic columns – wich identify themselves with the myth and the drama of that place, its history and its rich cultural geometry.




The images /words in the visual idiom of S.Politi function like conceptual entities of work and weave the dense canvas of her works. Her field of action and vision appears as a suitable space for shattering the rigid beliefs of dogmatic, rhetoric art.

All of us in this company communicate with each other through invisible threads and open, anguished questions, leaving our visual expression free to communicate with the new avant-garte that emerges in the form of electonic technologigal culture. Working within the affluence and the artistic context of our time, Spiridoula Politi is adept in selecting her own spear-heads which are installed in the shrine of Aphaea as offering to light and collour; a poetic inroad into the depths of the dramatic visual expretion of Euripides. Thus arranged, her work does not need the arbitration of the wtitten critical word. She has devoted herself to the reception and understanding of the messages from the exhibition and the art of our time.




The adventure of matter


solo exhibition catalogue, 1998, Gallery 7, Athens,
by Spyridoula Politi,
"Once I had decided that matter was my means for approaching nature, I embarked on a wandering and an adventure with it.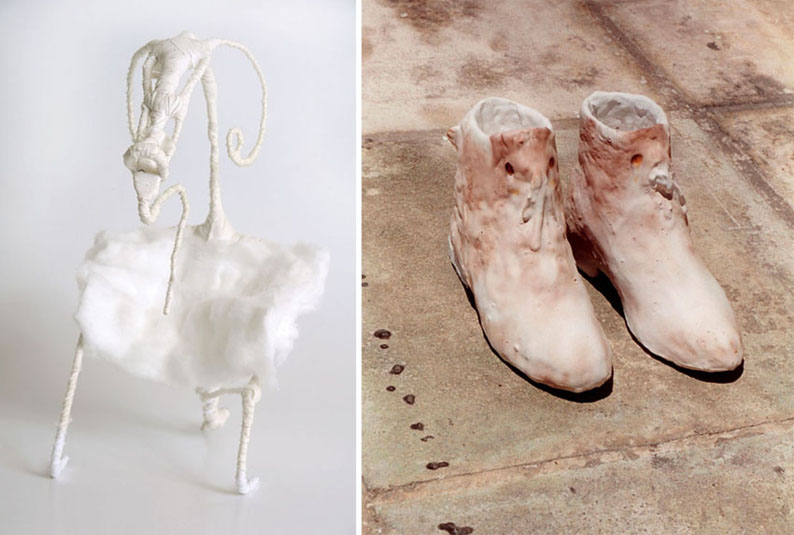 Before that, the rejection of imitation as a means of expression had led me to a game with matter which aimed solely at getting to know and shape it. As I abandoned myself to this process I got to know many materials and realise that the concept of the game and the random does not stop at specific materials, spaces or forms. It also led me to a realistic mood which had initially to do with the space of my studio.
Photography as a material satisfied my need to approach reality, since it always carries an image of it. After all, the magic of its nature lies in its capacity to turn reality into an image, in addition to its play with time".
solo exhibition catalogue, 1987, Athens Gallery, Athens
curated by Costas Stavropoulos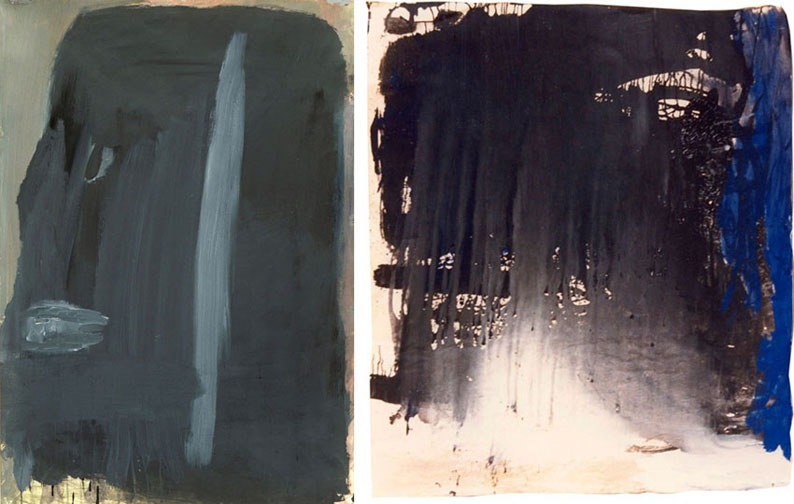 ...I have said it again in my writings that it is indeed a privilege for an art critic to have the opportunity to introduce a young artist to the public of a city or a nation. On the other hand, it is also a hassle and a difficult task, which entails taking the risk of looking ahead into history and predicting whether what is now a 'sound metal' will stand the test of time and avoid the risk of its artistic decline.
...When it comes to the first appearance of Spyridoula Politi, I feel confident and moved enough to say that she promises to bring a lot of good things into our painting.
...I must make it clear that Spyridoula Politi clearly stands at the forefront of this generation with the quality of her propositions. She is gifted in the processing of fine cerebral and mental dramatic compositions, with a sense of poetic clarity and solitude in her myths and her styles; one can discern an expressionistic mood in her work.
... Politi consciously assimilates and fuses all –isms in the core of her work to bring to the surface a new perception of myth through a personal idiom. It is this identity and this talent that charismatically promote her expression towards the boundless expanses of art's poetic freedom. I can conclude that if this gifted painter, whom I am fortunate enough to be presenting from the pages of the catalogue for the exhibition at the "Athens" Gallery, continues to work in this inspired and relentless way, she will certainly secure her place in the artistic adventure of Greece and will thus liberate herself in order to go deeper into the uncertainty and the keen questions of knowledge and truth.
Yet I must interrupt my 'holy prophecies' and convictions long enough for a hearty greeting of the newly opened way of this painter, and let time as the better judge and prophet to give its verdict in a more final, wise and sober way than the art critic who signs this note. Still, it must be clear in my text that I spared no words, courage and temperament in my early and open sanction of the young yet gifted work of Spyridoula Politi, so that it can proceed, resolute and unencumbered, to its end.